I have a bit of a weird ramble for you today.
It's on the subject of Business Cards!
Remember them?
Little bits of card people hand out in the hopes
you'll keep it somewhere for when you want or
need their contact details… lol
As we all get more and more used to technology,
smartphones & devices etc.
– Do we still need a business card?
In most cases no.
But not in all cases, and I'm sure even when we
work solely online, there's always someone somewhere
we meet who asks about our contact info.
So what do we do when they don't have the smartest of
smartphones to 'bump & share' or search your domain
name in their phones browser (When there's no signal
for miles)
What if THEY are just a small local business and you
can't save their details… Can their other clients?
In a nutshell – there are a lot of perfectly good
reasons to still carry a business card, or if you work
with offline clients, to get them to have some printed!
Then the next question usually becomes….
What to put on it?
How to design it?
Colours, trademarks, logos etc.
With the OBVIOUS being – we all want a card people
WILL NOT throw straight into the round floor storage
receptacle next to their desk 😉
Well over the years I've seen all sorts, from jokey card,
to novelty ones that are mini-discs that can be loaded
into a PC, to the plain and simply boring basic info ones,
that most go for, and are first in the bin once we empty
our pockets.
But a couple of weekends ago I saw something new to me…
We were out for a family day at the seaside, and doing the
usual shop after shop, after shop after shop,
(Cos what else are 3 females supposed to do at the beach?)
lol
Well one shop we always pop into is the Ancient Warrior
on Scarborough Sea Front.
It sells all sorts of goodies, from Ann Stokes art work,
to novelty gifts, smoking paraphernalia, and a range of
fantasy swords, knives and weaponry.
Something for everyone (in our family at least)
And Rachel, as she does, always collect a facebook page
link or some other means of doing more shopping once she is
home, like a web url etc.
And of course – most outlets have a printed paper sheet, or
a card or flyer of some form for people to take with their
purchase.
OK, I'm getting there.
Here is a picture of the card we picked up at the
Ancient Warrior store: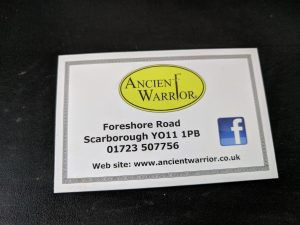 OK – Fairly basic Randy?
I thought you were going to mention why it's a keeper?
I am, (and other than talking to myself while writing,)
I do have a point.
What made this card STAY in our desk draw with a small
collection of 'Cards To Keep' – was the novelty aspect of the
cards rear design.
Nothing more that a bunch of, as they title it,
'Other Useful Numbers'
And before I show you a picture of the cards reverse side,
I wanted to add that part of the novelty of keeping it,
was to see if I could check those numbers.
I did check them online…
And they appear to be real phone numbers for the various
places mentioned.
So let me show the picture of the rear to put you out
of your misery 😉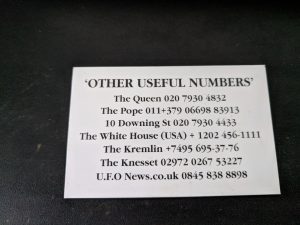 There you go!
Who wouldn't keep a card with the phone number of Buckingham Palace?
or the Pope, or the White House in the USA etc.
OR as in my case – who wouldn't want to check to see if they
were real or completely made up?
(Which still means the card made it home to your PC)
So when you are designing your next business card, or one
for a client to get printed, maybe give a though to the question…
Is It A Keeper?
And if not – what can we do that is in line with our business,
or in keeping with what we do – or just plain novelty enough
to make it a KEEPER?
I hope that both amused and helped you 🙂
(Don't forget to Like/Share Etc. …. pretty please) 😉
===
By The Way.
If you are in need of any software to help create…
Business Graphics,
Flyers,
Business Cards,
Loyalty Reward Cards,
Discount Coupons,
etc.
Pop along to http://randolfsmith.com/likes/BizGraphicsWiz
and use the coupon code – 50off
to save 50% off the current pricing 🙂
You'll discover the quickest and easiest way to create
ALL your business graphics for use Online or OFFline!
Every single business NEEDS marketing material. Period.
And now you could be creating them and charging for them,
or saving yourself a heap of cash by producing your own
for your sites and businesses 🙂
Go have a look at the video on the page showing how
simple the software app is to use, and the templates
etc. already included to make life even easier for you.
Cheers.

P.S. Don't forget if you want to create an internet income
of your own, product creation may be something you need to
look at, and this free training webinar will help:
http://randolfsmith.com/likes/PCW1