It time for another Ramble from Randy,
And today I'm asking Does Size Matter?
NO
It's not just a post for about male readers!
Or one for female readers to comment on. haha
And for those with the dirty minds, contact me
privately, I know we'd get on…lol
Nope.
I'm talking about Pond Size!
There are expressions about being a
'Big Fish in a Small Pond'
And at the other extreme,
A 'Small Fish in a Big Pond'
Both of which relate to the size of the
marketer,and the size of the market they
trade in.
Some marketers are happy to be a small fish
in a very big pond, as that would usually
indicate that there are plenty of customers
for everyone, even if they aren't a brand
leader or industry giant.
And likewise – some would prefer to be the big
fish in their own small pond, cornering the whole
of their market of something with a Far Smaller
customer base – but also very profitable.
E.G. "To'ak Vintage 2014 Cognac Cask
Matured 3 Years Chocolate Bar (50g)"
at £400.00
I'll stick to Yorkies at 3 bars for a £1
It would be easy to assume that the £400 bar of
choccy would allow for a large advertising budget,
And have far less competition of sellers trying to
find customers for it.
And viewing those sort of stats, most newbies
to online marketing would probably give up
without trying, because how are we supposed
to compete with the likes of 'Harrods' and their
advertising budgets?
So now what?
Do we check other small niches for an untapped
market?
Maybe we create our own niche and try to get
people interested in something 'No One' is
selling?
Maybe we create a 'Yellow Spotted Daschund'?
(Well google did return some results…lol)
Then again – I'm sure some smart marketer has
already searched for every obscure niche we
could think of, and already checked on it's
profitability and the budgets required to
make a decent Return On Investment!
So if Big Ponds require Large Budgets and a lot
of work to break into and make a profit with,
what's a newbie marketer to do?
In Internet Marketing Terms, Most newbies have
heard of most of the big names in their niche,
and even if they haven't, a few minutes wasted
on social media will soon target us with adverts
and 'sponsored' listings, showing us who the guys
with all the cash are!
And we soon learn that they have a lead magnet
to capture our email address (or a messenger bot
these days).
Then they hit us with more and more value until
we get to the MEGA price tag of their personal
help.
Which brings be back to What Fish you want to be,
and which pond to set your sights on?
If it's obvious we can't compete in a Big Pond
without already being a BIG FISH.
Then we could market to the Big Pond and settle
for the scraps off the table of the Big Fish.
(Which could still amount to a LOT of money
for a little fish!)
OR – We could set out to be a Big Fish in our
own self built Small Pond!
That way – we are not competing with Big Fish,
but it may take a while to build our own
smaller ponds!
It does leave a lot of new marketers wondering
how they're supposed to compete and build a
following, when they are still learning from
their own mentors – who may or may not be BIG Fish
already, but are certainly bigger fish that the
newbie starting out.
Where the heck are you going with this Randy?
OK – The reason for writing such a weird post, is
that I consider myself a reasonable sized fish,
in my own little pond.
I've jumped ponds on occasion over my years in
the online marketing industry, and done OK with
the scraps left over by the really Big Fish.
(Launches and products sales of half a million
dollars sound BIG to me – but are still small
fry when compared to those guys like John Reece
who did a Million in a day, or John Crestani
who runs multiple 7-fig YT campaigns, And have
you seen what the guys who own Viddyoze have
done? – + $20,000,000.00 in Sales + 100,000
Active Users + $500,000.00 in ONE Affiliate
Promotion!)
Makes my biggest ever launch look like nothing!
And yet I sit here typing with a very comfortable
income, and a lot of respect from those who ask
for my help!
So does size matter – and what can we do about it?
FINALLY Randy – The Advice Part! (LOL)
OK – I'm not about to call myself any sort
of Fish!
But the program I help out with,
has lead to many many newbies becoming very
successful in their own right.
And far be it for me to decide what levels of
income of other marker, they consider to be
successful!
Here's how I explain to our members how to build
their own following and generate a full time
income online.
And forgive the analogy if you're young!
(You may wonder WHO or What the heck I'm talking
about!!)
I watched a movie 'hundreds of years ago' when I was
a child, To be more accurate, my Mother watched the
movie as she was a fan of Fred Astaire.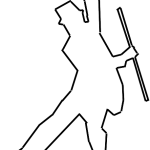 It was so long ago – I can't remember the title or
full plot.
The the main takeaway was this:
The character played by Fred was a guy who wanted
to learn how to dance.
He saw lessons advertised in a local village hall,
and joined to learn, paying 6p a lesson!
(Told you it was very old!)
The long and short of it was,
He really enjoyed learning to dance – but that
6p coming out of his weekly wages was a lot of
cash.
So in order to be able to afford to continue his
lessons, he inquired as to how much the hall was to
hire, and on learning it was 1p for an afternoon,
he asked if he could offer dance lessons on Thursday
afternoons.
Naturally the lady who did the bookings, explained
that they already had someone offering dance
lessons on a Tuesday for 6p!
To which Fred replied, yes, But for those who can't
stretch to 6p, I'd like to offer lessons for just 2p!
Well it turns out that a lot of folks would have
loved to learn, but couldn't afford the 6p.
However, at 2p they booked and his classes were
sold out.
The nutshell was that he Went to lessons on a Tuesday,
then taught what he had learned on Thursdays to his
class of 2p buyers!
Meaning he could continue his own dance education,
whilst passing on what he had learned his grateful
students a couple of days later, and leaving a
profit for him to start building an income of his
own!
—
How this applies to Internet marketing.
In online terms, we see so many Gurus offering to
show us WHAT and HOW to do what they do, in order to
get to their 50k a month level or more.
AND YET…
So many of us have our own glass ceilings!
in terms of what We BELIEVE we are able to achieve.
That to even think about earning 50K monthly, maybe
even 10K monthly etc./ is WAY WAY Above what we
think is even possible for US!
And hence – we go looking for someone who is doing,
making, achieving, etc. a target that is still
within our own level of belief!
(Someone who will just honestly share something
that works)
Many many people are just looking for something
to do to generate an extra few hundred to make those
car payments.
Or an extra couple of hundred to save for a vacation.
Maybe a couple of thousand to help out with their
retirement funds.
So instead of trying to convince people who work
40+ hours a week to earn a couple of hundred dollars
after taxes, that they too can be Gurus making 50K a
month.
(And NEVER HAVE THEM BELIEVE IT'S POSSIBLE!)
I coach our members to just make a start, and
keep on keeping on until they make a profit.
When that profit is a dollar, and rises to 10 dollars,
then 100 dollars, and continues to 1000 dollars etc.
At each point if they stay honest with what they're
learning, what they're making, how they are progressing
achieving things they never believed possible…
They will notice that others who have their own glass
ceilings are attracted to them.
Why would I want to follow a 50K a month marketer?
I just need someone to show me how to make my
first $10, Then my first $100, my first $1000!
etc.
And before they know what's happening, if they
continue to learn, and continue to share what and
how they have learned, and applied to their business,
they discover they have a loyal following, rising
with them, making progress themselves, and staying
loyal to the guy who showed them that first dollar
of profit.
So to me – the answer is clear.
Size (of pond or fish) Does Not Matter!
It's how you treat the other fish who swim around
you.
Those who are worried about the sharks out there,
and appreciate a slightly bigger fish – even if
only a week or two ahead in their learning, helping
and showing them discoveries, that will help the
other little fish.
So I hope you now believe me when I tell Size is
irrelevant.
It's what you do (with it);) That counts.
I ALSO hope you noticed that throughout this post,
I've made mention of people being GENUINE and Honest.
Which touches a little on another topic I see
discussed OFTEN!
Do you have to Tell Lies?
To Fake it – Until you make it?
To Pretend you are doing 10K monthly, when you're
actually struggling to make $100?
And my answer to that is NO!
Fake it til you make it APPLIES to Attitude!
To Act Enthusiastic – Until You Become Enthusiastic!
To Believe you are Successful – Until It's Proven
to be the case!
Which leads me to a report I've written that
I'll be including in a course I'm working on.
But as a stand alone – it may well help a lot of
my readers, and I promised to share it once it was
completed.
So if you're here reading this,
Feel free to download my report:
"Salesmanship OR Lies"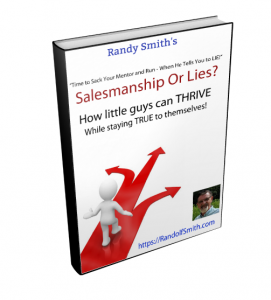 Oh and a repeat of a free webinar run by my
friend John, whose program it is that I'm involved
with and help coach members.
(It's actually a free training webinar with a
promo at the end for those interested in being
coached.)
Check that here:
Free Training Automated Sales & Success
As always – I hope you found this useful,
and please DO share, like, subscribe
& comment 😉
Cheers

P.S. Have you shared yet? – Go On, Increase my pond size 😉